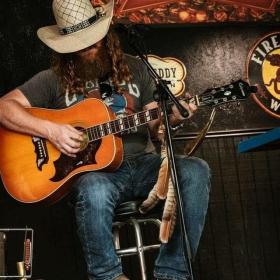 Singer/songwriter Caleb Boles is based out of campsites across America. Although he is a native Texan, he spends a lot of his time in the Rocky Mountains of Colorado. 
Strongly influenced in Folk, Dirty Blues and Mountain Music, Caleb Boles has a very inimitable raw, down to earth, authentic sound. 
His music can best be described as true high-powered, raw, story-telling, feel good grooves. Boles' is also affiliated with the band Red Feather Tribe. 
Caleb Boles has been nominated for solo artist of the year in 2017 in Austin, TX and received the solo artist of the year award in Denver, Colorado 2017.
https://open.spotify.com/artist/0gx6gg916UbNZ5z1fEWFG6?si=_RIeZcoYTxCmx… 
Event Details
Date and Time
Feb. 12, 2022, 7 to 9:30 p.m.