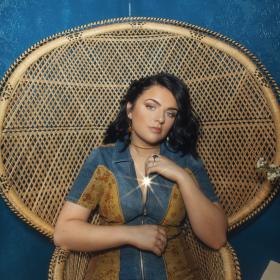 Admission is free!
Friday, July 15 @ 7:30pm; Doors @ 7:00pm
Maddie Poppe went through all kinds of emotions—from elation to self-doubt—after winning American Idol in 2018, releasing her debut album Whirlwind the following year, and then ultimately watching in amazement as many of the people in her creative orbit dropped away. The Iowa native, who captured the attention of fans with her folksy singer-song-writer style, did exactly that by giving herself the grace to evolve.
Hand-in-hand with her American Idol victory, she won a People's Choice Award for her turn on the show, had Whirlwind hit Number 2 on the iTunes Pop Charts, and went on to become a hot guest on The Kelly Clarkson Show, Jimmy Kimmel Live!, Live With Kelly & Ryan, and Good Morning America. All of this in addition to touring the country opening for Ingrid Michaelson and headlining her own tours.