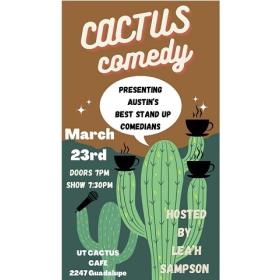 Admission is free! Doors open at 7pm, show starts at 7:30pm.
Join us for an evening of standup comedy at the Cactus hosted by comedian, writer, and actress Lea'h Sampson. Originally from Houston, Lea'h has starred in films that have been seen at the Austin Film Festival and other cities both in the US and abroad. She has done comedy festivals such as Out Of Bounds Festival, Moontower Comedy Festival, and Come and Take It Comedy Festival. She has opened and toured with entertainers such as Julio Iglesias, Michael Blackson, King Bach and many others. Lea'h continues to work on her craft, producing and creating – eventually "taking over the world of entertainment."
Lea'h has curated a killer lineup of talented, up-and-coming Austin comedians for your enjoyment. Admission is free!
Event Details
Date and Time
March 23, 2023, 7 to 9:30 p.m.