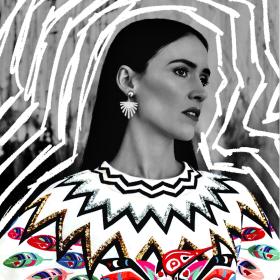 Admission is free!
Friday, September 23 @ 7:30pm; Doors at 7:00pm
One side of the ocean is Latin America, intense and mystical land. On the other side, there is Paris, Belleville, multicultural, urban and modern land.
​Through her music, La Chica reunites those two worlds by proposing a collage of sound textures, borrowed from her cultural heritage and various modern influences, by breaking the established codes.
​
It's around the piano and keyboards that her universe got built, skillfully mixing her classical inspirations (such as her love for Debussy) with the depth of aerial layers of analog synth. Unhidden, the French-Venezuelan conveys raw emotions, between abstract thoughts and poetical introspection.
​
​Her new album, "La Loba" is dedicated to her late brother. It is an intimate, sincere opus, filled with magic and rituals. Through these songs, she expresses the first stage of her new learning of life in the absence of a loved one. She goes through different emotional stages such as anger, infinite sorrow, utmost love, enlightenment.
Event Details
Date and Time
Sept. 23, 2022, 7 to 9:30 p.m.