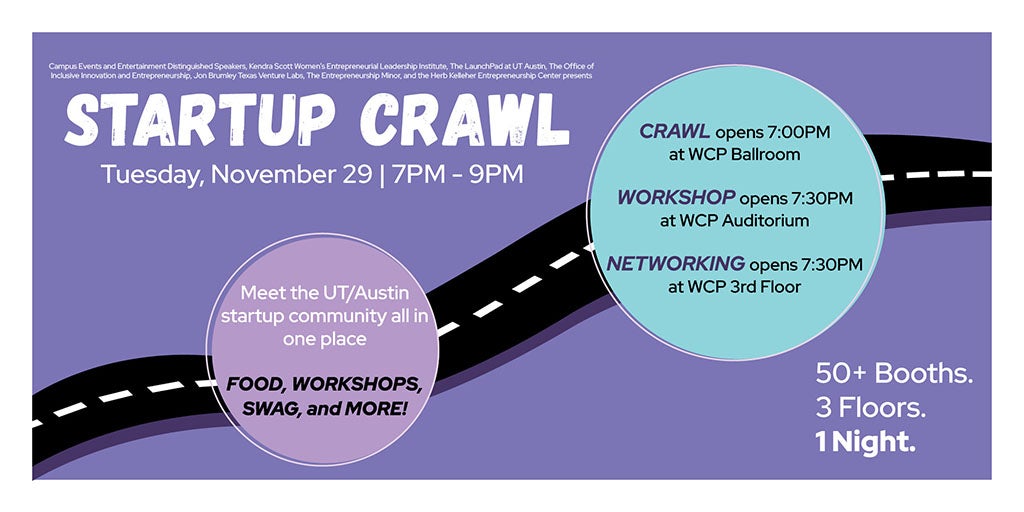 The purpose of this event is to expose attendees to the entrepreneurial community. UT is one of the top schools for entrepreneurship and that comes from the vibrant and active community both on campus and in Austin. Our mission is to make sure this event highlight students, particularly female and minority, founders through this event.
This event will be at the WCP on November 29th from 7-9 PM. Witness workshops on the first-floor Auditorium. Meet the students, departments, and organizations responsible for the rich entrepreneurship community in the Ballroom. Network with the leaders of tomorrow on the 3rd Floor Balcony. 

Co-sponsors include Kendra Scott Women's Entrepreneurial Leadership Institute, Blackstone Launchpad, The Office of Inclusive Innovation and Entrepreneurship, Entrepreneurship Minor, Texas Venture Labs, and Herb Kelleher Entrepreneurship Center!
To attend this event, register at campuscrawl.eventbrite.com