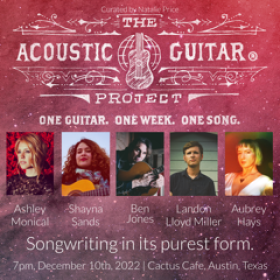 Admission is free! Saturday, December 10, 2022 @ 7:30pm; Doors at 7:00pm
The Acoustic Guitar Project is a global music platform and concert series that inspires musicians to write an original song and record it live in one week. One Guitar: We choose a city, and five local musicians, and provide them with an acoustic guitar and a simple recorder. One Week: Each musician has one week to write an original song and record it live. No editing is allowed. Musicians also shoot a video describing their experience and/or song. One Song: Each musician signs the guitar and takes picture with it. We upload their song, their picture and video to the site. Then, the guitar is passed on to the next artist in that city.
When all five musicians have completed their songs, there is a concert. During the performance, each musician plays the song they wrote for the project and tells the story behind it.  AGP's mission is to inspire creativity by simplifying its process to the bare essentials, to encourage a deeper connection between the artist and their art, and to tell truthful, meaningful stories.