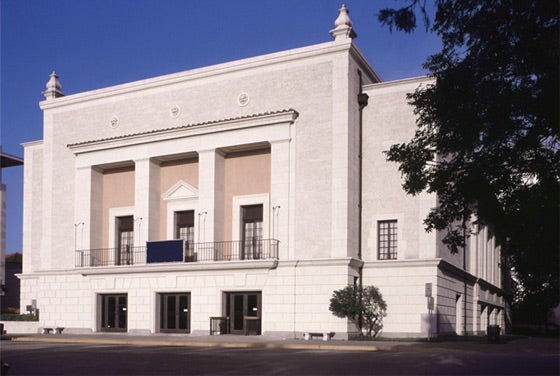 Building History
Designed by French architect Paul Cret and completed in 1933, Hogg Memorial Auditorium was the first theater on campus and was part of the "Union Group" buildings financed almost entirely by student and alumni efforts. The auditorium was named after James Stephen Hogg, the first native governor of Texas.
Throughout the decades, Hogg has served as a hub for different aspects of the UT campus life. When it opened its doors in 1933, the inaugural event was a lecture by poet Robert Frost. In the 1950s, it was the main stage for UT's drama department and throughout time it continued to serve as a venue for lectures, debates, and traveling plays, serving the campus as well as the community.
After a dormant phase when Hogg was used for lectures, exams, and film screenings, it reopened as a performing arts venue in 1997. Today, Hogg maintains many of its original architectural features that make the space a historical gem on the 40 Acres.
Through the combined efforts of Student Government, the College of Fine Arts, and the Division of Student Affairs, we are excited to provide Hogg Memorial Auditorium as a student-centric programming space for creative events primarily planned and produced by registered student organizations.
So come make Hogg your own … Host your next big event with us!
Reservations
Hogg Memorial Auditorium is currently closed for renovations. We look forward to re-opening in Fall 2023.

The space features 1,000 seats and provides the ideal venue for lectures, theatrical performances, talent shows, panel discussions, movies, and many more type of events to fit your programming needs.
Hogg Memorial Auditorium may only be used by Student Organizations and University Departments for university events.

To learn more about planning your event at Hogg Memorial Auditorium and any other related questions, contact hospitality@universityunions.utexas.edu or 512-475-6677.
Hogg Memorial Auditorium
Location:
2300 Whitis Avenue
Austin, Texas 78705
Address:
The University if Texas at Austin
PO Box 7338
F4200
Austin, Texas 78713
Email:
Phone: