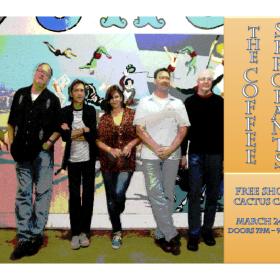 Admission is free!
Friday, March 24, Doors open at 7pm, Show begins at 7:30pm.
It's been over 10 years since The Coffee Sergeants released their previous record, the sprawling Purple Martin Sanctuary. The band describes their new release, Phantom Verses, as eclectic, psych-driven ear candy.
Formed in 1989, the band has been playing live in venues across Austin & beyond. Carey Bowman plays a dominant role in the sound and vision of the Coffee Sergeants, writing and singing most of the songs and playing distinctive, plaintive, swirling lead guitar. She is joined by keyboardist Mike Barnett and Doug Spinks on drums. Bassist Spencer Berry died suddenly as the recording sessions drew to a close, making Purple Martin Sanctuary something of an epitaph for band's quiet, gentle sidekick. It took two new members to take Spencer's place, guitarist Jimi Teasdale and Terri Teasdale on harmonium, an antiquated proto-synthesizer that lends the band much of their quaintly psychedelic air. Austin musician veteran Chris Vreeland steps in as bassist.
Event Details
Date and Time
March 24, 2023, 7 to 9:30 p.m.