Tower Tours are currently unavailable.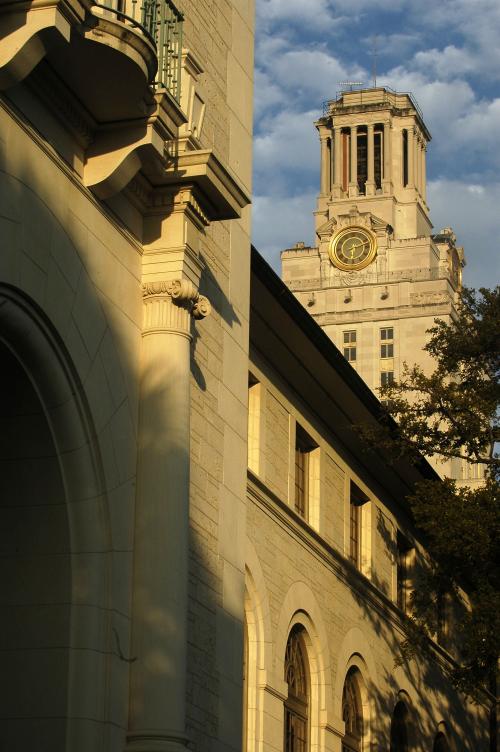 Tower Tours Schedule  
Tours have been canceled until further notice.
When in session all regular tours are Saturdays and Sundays ONLY and start at the beginning of each hour.
Tower Tours Contact Information
Location:
Texas Union Hospitality Desk
2247 Guadalupe St.
Austin, Texas 78705
Email:
Phone:
Information and Reservations
This is a non-historical tour
Information about the Tower's architecture is provided, and it is a wonderful opportunity for photos and a full 360 degree view of Austin and the UT campus.
The Tour
A 45 minute-long self-guided tour of the UT Tower escorted by UT student guides. Patrons will ride an elevator to the 27th floor of the Tower, then take three short flights of stairs to the observation deck. An auxiliary elevator is available to guests with restricted mobility.
Reserve A Ticket
Reserve a ticket by either stopping by the Texas Union Hospitality Center at 24th and Guadalupe, or by calling (512) 475-6636. Tickets are reserved in advance, then paid for the day of the tour. All guests must reserve a ticket, regardless of age. Advance reservations are recommended as we're frequently booked early.
Location and Parking Information
Guests can park in the University Co-op parking garage (directly behind the Co-op at 23rd and San Antonio). The Texas Union is located at 24th and Guadalupe St. The Hospitality Center is located on the ground floor of the Texas Union, across from the Starbucks.
Ticket Purchase & Pickup
Pick up and pay for your ticket on the day of your tour at the Texas Union Hospitality Center. Tickets are $6.00 each, regardless of age. You must pick up your tickets no less than 10 minutes prior to the start of your tour. If tickets are not picked up by this time, they will be forfeited.
Waitlist
If a tour is completely reserved, we will begin a waitlist on the day of the tour. No waitlists are made prior to the day of the tour. You may call or come in person to be placed on the waitlist. Any unclaimed tickets will be released for purchase starting 10 minutes before the start of the tour to those on the waitlist. You MUST be present at the Hospitality Center 10 minutes before the hour to claim your waitlisted tickets.
Guidelines
We have a very strict no bag policy; this includes bags, purses, wristlets, backpacks, etc. You might want to leave these items in the car, otherwise you can check them for $1. Other items not allowed on the tour include food, beverages, umbrellas, strollers, car seats, or pocket knives. Items allowed on the tour include cameras (without the bag), cell phones/electronic devices, and walkers/wheelchairs. Tours will only be cancelled in the event of lightning, and our staff will attempt to call you (with the phone number provided) to let you know in advance.
Please note: restrooms are not available on the tour; however they will be available directly before and after. Guests are not permitted to leave the tour early. Guests are required to pass through a metal detector before entry onto the elevator. Guests must defer to tour guides and UT police officers regarding all tour procedures.
Large Groups
For groups of 15 or more, please email towertours@universityunions.utexas.edu. Parties of more than 25 must be split into more than one tour. We can raise your numbers (as long as space is available), however we cannot reduce your numbers once the tour is officially booked. Once your tour is booked, one person can pick up tickets at the Texas Union, and the rest of the party can meet directly at the Tower.
The carrying of any firearm, including a concealed handgun carried by a license holder, is prohibited on the UT Tower observation deck and in those immediate areas secured by The University of Texas at Austin Police Department ("UTPD") in advance of any public or private tour. Notice conforming to Texas Penal Code, Section 30.06 will be provided. There will be no gun storage lockers at the UT Tower or Texas Union.