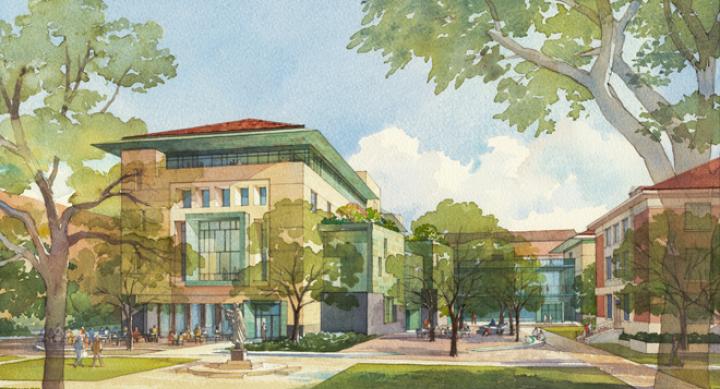 History
In 2006, students passed the Student Activity Center referendum, creating a small semester fee to build and maintain the facility. Construction began in 2009 and the building officially opened its doors for student use on January 18, 2011.
In January of  2009, the dream of a second building began to take shape when ground was broken at the location just north of Gregory Gym on the East Mall.  The construction was right on schedule for the January 2011 Grand opening.  The Student Activity Center (SAC) is a manifested student initiative.  Its main purpose is to serve the students of The University of Texas at Austin, support a diverse array of student interests and provide additional and alternative options for activity, event, meeting, dining and outdoor gathering spaces.  
As it was originally intended, environment friendly elements were used in the construction. In 2012, The Student Activity Center received a LEED (Leadership in Energy and Environmental Design) Gold rating. The Student Activity Center is the first building on the UT Austin campus to receive this rating.
It is inspiring to know that a dream which began when the Texas Union opened its doors in 1933, has grown to encompass two locations on campus for students to build a sense of community and to grow alongside their peers through utilizing these buildings and all they have to offer.
The Student Activity Center serves its community in a variety of ways. We are a building of students, for students, and by students.
On August 15, 2019, the Board of Regents unanimously approved the renaming of the Student Activity Center as the William C. Powers, Jr. Student Activity Center (WCP).
Welcome to the William C. Powers, Jr. Student Activity Center!
Welcome to your building. For years, students at the University of Texas at Austin advocated for the creation of an additional student union building to provide for social, cultural, educational and recreational programs.
The WCP is committed to providing students with the resources and leadership opportunities that best enhance the student experience.
The William C. Powers, Jr. Student Activity Center is operated by University Unions, which is part of the Division of Student Affairs.
Amenities
The structure offers 149,000 square feet of departmental space, dining, and distributed lounge space, and over 25,000 feet of outdoor seating. We offer thirteen meeting rooms, including a ballroom, Black Box Theater (an experimental performance space), a legislative assembly room, dance rehearsal space, and an auditorium.
Resident Departments
60,000 square feet of the the building is occupied by the Department of Anthropology, Native American Indigenous Studies, Gender and Sexuality Center, Graduate Student Assembly, Leadership and Ethics Institute, Multicultural Engagement Center, Senate of College Councils, and Student Government.
Current food options include: Longhorn Coffee Company, One Two Three Sushi, Hook 'em Hut, and Pop Up Kitchen: Sub Sandwiches.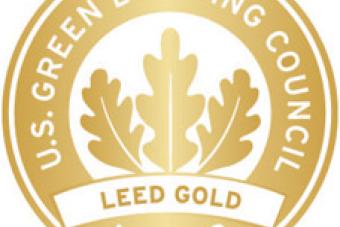 Sustainability within the William C. Powers, Jr. Student Activity Center
Leadership in Energy and Environmental Design (LEED) is a voluntary certification program that can be applied to any building type and any building lifecycle phase. It promotes a whole-building approach to sustainability by recognizing performance in key areas. Once a parking lot at the center of campus, and now a green hub of student life, the William C. Powers, Jr. Student Activity Center achieved the LEED Gold rating on April 29, 2012. Some building highlights include:
Green roofs reduce and slow the amount of storm water leaving the site, mitigating flooding in Waller Creek.

More than 75% of construction waste was recycled and diverted from landfills.

Many of the building materials are from within 500 miles of Austin and contain recycled content.

CO2 monitors in all assembly spaces ensure the proper amount of fresh, outside air during occupancy.

Rain water collected from the roofs is used for water-efficient landscaping.

Natural day lighting reduces energy consumption and heat gains from artificial lighting.

Paper, plastic, glass and cardboard is recycled in accordance with LEED standards.
William C. Powers, Jr. Student Activity Center (WCP)
Location:
Campus Mail: WCP (formerly SAC), D7400
Street Address (maps): 2201 Speedway
Address:
P.O. Box 7338
Austin, Texas 78713-7338
Email:
Phone:
Fax:
Website:
Google maps: