2022-2023 University Unions Board of Directors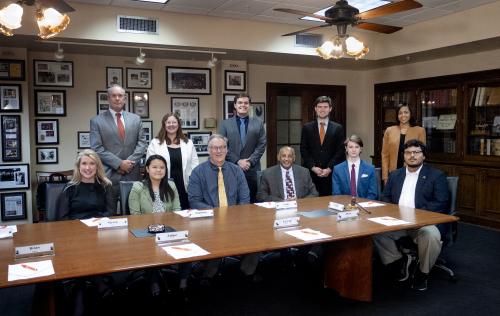 Top row: Brian Roberts, Olivia Green, Felipe Rocha, Leland Murphy,
Celena Mondie-Milner
Bottom row: Courtney Byrd, Isabel A. Hsiao, William Wolesensky,
Mulugeta Ferede, Colby Jones, Steven Garza
Not pictured: Cade Young
2022 - 2023 Members of the Board
Cade Young, Chair
Isabel Hsiao
Felipe Rocha
Steven Garza
Leland Murphy
Olivia Green
Dr. Brian Roberts
Dr. Courtney Byrd
Dr. William Wolesensky
Dr. Celena Mondie-Milner
Mulu Ferede
2023 Spring Election for Leadership Positions
University Unions Board of Directors has three (3) elected positions - Campus E+E President and two (2) At-Large Representatives.
All qualified students are invited to file for our three (3) leadership positions. The nomination forms will be available online in January 2023.
Candidates are invited to attend an upcoming Board of Directors' meeting. This will allow the candidates to observe how the Board functions and to meet with current members, comprised of students, faculty, and staff.
Duties of the Board Members
Recommend rules, regulations, and procedures regarding the operation and use of the Unions' facilities;
Approve the E+E budget, appointments of E+E officers, all changes in the E+E by-laws and the addition or deletion of any E+E committee;
Advise the President, through the Vice President, on the selection of the University Unions Executive Director;
Be involved in the future development of the University Unions.
Actions of the Board are subject to the approval of the Vice President of Student Affairs.
Composition of the Board
The University Unions Board of Directors is composed of:
Three faculty members appointed by the UT President;
Student Government president;
Two students elected at large for one-year terms;
Two students appointed by the SG president to serve two-year overlapping terms; and
Campus Events + Entertainment president, who is elected at large for a one-year term.
Non-voting members are the designee of the Vice President for Student Affairs and the University Unions Executive Director.