Recognition For Specific Contributions
The names of contributors of $500 and above to the Texas Union Lectureship and Student Awards endowments are included on plaques that are displayed in prominent locations in the Union. A limestone and slate plaque has been installed in the 3rd level Presidential Lobby that recognizes Sinclair Society members.
Cumulative Gift Recognition
The Ring of Honor and The Order of the Texas Star have been established to provide permanent, highly visible recognition to donors—individuals, corporations and foundations—who have provided significant support to The Texas Union and its programs. Names of qualifying donors of irrevocable planned gifts will also be included in the appropriate categories.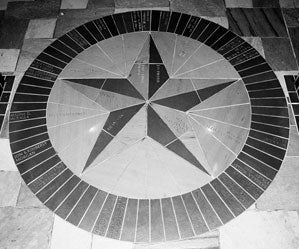 The Ring of Honor is a circle of black slate tiles surrounding a red and black Texas Star in a field of grey. The design was created in slate and inlaid in the center of the Union's South Lobby floor. Names are hand carved into the slate when a donor's cumulative gifts to the Union attain the designated giving level:
Ring of Honor ($2,500 to $10,000)
Order of the Texas Star

within the ring: $10,000 to $25,000
within the star: $25,000 and above
Ring of Honor
Janet Bauerle Anderson
Counse Broders
Surangi and Dilum Chandrasoma
The Honorable Harley Clark
Cal and Clare Buie Chaney
Fran Chapman
Carrin Patman and J.V. Derrick, Jr.
James H. Dudley, BA 1961, JD 1965
Nita and Rad Eanes
Tom and Susan Forestier
Amy Thomas Gerling, 1989
John Austin Gerling, 2022
J. David Harrison
Laurie and Blake Justice
David R. Lambert, 1967
Peggy Liddle
Maline G. McCalla
Mary and David McDonald
Jon and Kimberly Morgan
Virginia and George Nokes
Esther and Gary Polland, 1972
Dave Puntch
Robert Jay Reining
Jane Reber Rhodes
Gary F. Shelton
Debbie and Brian Shivers
Shawn Smith, M.D. 1984
Barbara Higley Staley, 1969
Marolyn Wittman Stubblefield
Ernest L. Taubert, Jr. 1962
Patricia Teed
Trilogy Software
Ronnie Volkening
Amy C. Wilson
James S. Wilson
Order of the Texas Star
INNER STAR
ARAMARK
J.W. PIEPER
JAN SMITH PIEPER
UNIVERSITY CO-OPERATIVE SOCIETY
WENDY'S
THE PAL FAMILY
WILLIAM BLAKE ("BILLY") RODRIGUEZ
STAR WEDGES
SUE AND JOHN ANDERSON
NITA AND RAD EANES
PATRICIA AND JITTER NOLEN
UNIVERSITY CO-OPERATIVE SOCIETY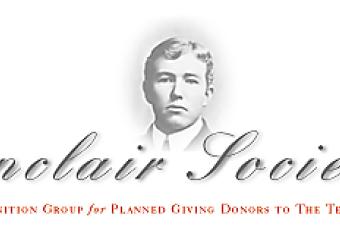 Sinclair Society Plaque
J.W. PIEPER
JAN SMITH PIEPER
SUE AND JOHN ANDERSON
SUSAN AND ANDY SMITH
ELAINE AND GARY SHELTON
ANONYMOUS
PATRICIA AND C. C. NOLEN
BERYL AND J. J. "JAKE" PICKLE
NITA AND RAD EANES
ARTIE SUE AND LARRY WELLS
THE FASS FAMILY
CAL AND CLARE BUIE CHANEY
WILLIAM BLAKE ("BILLY") RODRIGUEZ
BARBARA HIGLEY STALEY AND MIKE STALEY
ESTHER AND GARY POLLAND
JANET BAUERLE ANDERSON
DAVID AND MARY MCKINNEY MCDONALD