Admission is free! Doors open at 7 p.m., show begins at 7:30 p.m.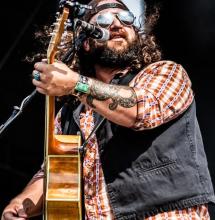 Jensen Buck is a singer-songwriter who's been singing and entertaining audiences his entire life. His unique combination of country, alt-country and reggae create a genre of its own. He has a special connection and deep appreciation for small towns, communities and the people in them. His music and love for the mountains and the sea are combined in his songwriting, which delivers a powerful testimony to his accomplishments and struggles throughout the years. His influences growing up include Waylon Jennings, Johnny Cash, Johnny Paycheck, Garth Brooks, George Strait, Willie Nelson, Zakk Wylde, Billy Joel, O.A.R., NOFX, Sublime, Teenage Bottle Rocket, Bob Seger and Bob Marley.
Jensen Buck started off in honky tonks and festivals, but today he opens for stars such as Alan Jackson, Eric Church, Neal McCoy, Casey Donahew, Cadillac Three, Frankie Ballard and Jake Owen. As a well-respected musician, he offers a unique sound to his fans by creating and sharing original music.
Event Details
Date and Time
June 29, 2023, 7 to 9 p.m.