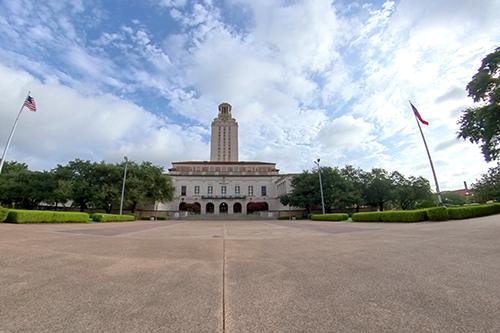 For over 80 years, the UT Tower has been the academic symbol and architectural emblem of The University of Texas at Austin.
The 307-foot-tall Tower was completed in 1937. For many years, the Tower was the tallest building in Austin.
The Tower will light up to announce university achievements and darken with a solitary white cap for significant solemn occasions.
Designed by French architect Paul Cret, the Main Building and the Tower was built to house the university's central library. Rising 27 floors above the reading rooms, the Tower housed the library's book stacks.
The Main Building and Tower were financed through a grant from the Works Progress Administration, a New Deal program created during the Great Depression.
Today, while much of the Main Building is used for the President's Office and other administrative offices, students can still study in the grand reading rooms, which now contain the Life Sciences Library.
More University Unions 360° Virtual Tours