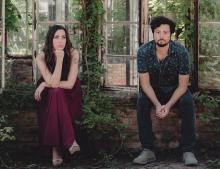 Admission is free! Doors open at 7 p.m., show begins at 7:30 p.m.
Deer Fellow is an indie folk-pop duo with a keen sense of song craft. Based out of Austin, bandmates Matt Salois (guitar, vocals) and Alyssa Kelly (violin, vocals, piano) met at an open mic and were quick to collaborate. Fast forward to present day and coupledom, the two have built a cross-genre sound that pulls you in right away, stirring romance and broken hearts.
Although Ali Holder was raised on outlaw country in Wichita Falls, Texas, she is influenced by a broad swathe of styles including country, jazz, blues, folk and indie. She began writing, singing and playing guitar in junior high and fell in love with songwriters early on. Whether her inspirations come from haunting historic sites, communing with cattle or reading Stephen King, Ali Holder clearly has creative blood coursing through her veins. Let her spill some into your ears.