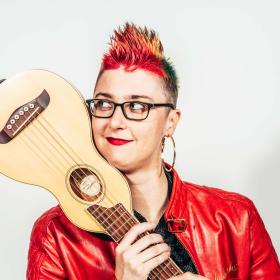 Admission is free! Doors open at 7 p.m., show begins at 7:30 p.m.
Transcendental folk bard Stellar is a clear voice ringing out for justice and liberation. Stellar's 2021 solo debut "Rainbow Shadows" is a manifesto of fury and compassion, a message in a bottle filled with uprising, ancestry, love, hope and resilience. From calling out those who abuse their power, to painting hopeful pictures of a different world, the bulletin of Stellar's music is clear: Silent complicity in a system that benefits only the few and powerful deprives us all of a better and more beautiful future. Seamlessly weaving the evocative story and soul of their songwriting with the clarity and urgency of our times, Stellar sings with a conviction and joy that helps us remember the personal is political, oppression must be unlearned and liberation is for everyone.
The Conjunto Blues are Texas-based musicians, Nicolás Valdez and Luis Gonzalez, who take the accordion and bajo sexto (12-string guitar) used in traditional Conjunto music and mix in a wide range of regional sounds from cumbia to swamp pop. Often referred to as "Third Coast" music, this San Antonio duo offers a broader audio landscape of the South Texas Xicano experience. Their performances are in conjunction with the film "Conjunto Blues," currently screening at festivals around the country and internationally.
Event Details
Date and Time
June 2, 2023, 7 to 9 p.m.